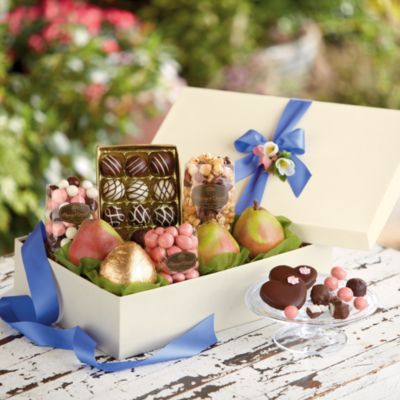 It's almost Mother's Day!  Have you thought about what you want to give to your Mom, Grandmother, Aunt or special Mom in your life?  Well, I am giving away the beautiful box of goodies pictured above to one lucky reader and they can send it to that deserving Mom in their life just in time for Mother's Day.  The entry form is at the end of this post.
In 2007 my mom lost her 12 year battle with breast cancer, so Mother's Day is bittersweet for me.  I am excited when my kids come home with handmade cards & potted flowers, but still have a veil of sadness that I don't get to do the same for my own Mom.  I know that she's looking down on special days like that and smiling at me and I have to take solace in that thought.  So who do I celebrate on Mother's Day instead?  My 93 year old grandmother…..
She's probably, hands down, the most incredible person I know.  At 93, she is still a powerhouse and grows a huge garden, makes bread that will blow your face off and just bought a snazzy new red car to tool around town in.  She's no stranger the cancer monster either.  She's battled breast cancer twice in her 50's and 40 years later lives to tell about it.  She is one AMAZING woman and I am so proud to call her my grandMOTHER.
I sent her the Mother's Day gift tower from Harry & David without telling her and she's been calling everyone she knows asking who sent it.  Tricky, I know, but worth it to make her day.  Just like one lucky winner who will make their favorite Mom's day as well.  Let's get to the giveaway, shall we?
Harry & David Mother's Day Giveaway
Disclaimer: Harry & David offered to send a Mother's Day gift of my choosing free of charge.  I was not compensated to write this post and all opinions are my own.  I happen to love the Harry & David company and products and choose to work with them gratis when possible.